Making an Entrance
GRM, December 2015
There's no doubt that tunnels can create a dramatic focal point to any railroad. The tunnel portal is one of the most important elements of that feature. An ugly portal (or no attempt at a prototypical portal at all) can completely ruin the illusion, making your tunnel look like just a hole in the ground. A proper tunnel portal, however, can make your tunnel a memorable aspect of your garden landscape.
VES Enterprises' product definitely falls into the "proper tunnel portal" category. While the company's literature lists the scale as 1:24, you can't really pin an exact scale on a tunnel portal. It's suitable for any of the common scales we run in the garden, with an opening that has a width of just under 8" and a height of 11." VES Enterprises will also produce custom sizes for you if you need double tracks or larger (or even smaller) clearances, etc.
The portal is built from natural cedar and is left unfinished. If left like this, the wood will weather to a nice gray color over time. You could also stain it, paint it, or just seal it with wood preservative to keep the tan look of the unfinished cedar.
The portal is sturdily constructed. The main walls are solid cedar, 1/2" thick. Trim pieces are nailed and glued to that to finish it. The wood is rough cut so it has some saw marks on some pieces that add a rustic look. It looks appropriate for a typical wood tunnel portal, though it is not what I'd consider "detailed." Most prototypical wood portals would be built of large vertical timbers and smaller horizontal planks. You could easily glue strips of thin cedar between the vertical trim pieces if you wanted that kind of look but, frankly, I don't know that it's really needed unless you want a particular prototypical look.
Many such tunnel openings had retaining walls angling out from the portal itself, and VES Enterprises sells those as well. These are built of the same 1/2" thick cedar planks as the tunnel portal, with cedar trim pieces giving them some detail. The samples sent for review are 11" tall, tapering to 6"; they're 11" long. VES Enterprises will also build these walls to custom sizes for you.
Overall, this portal and accompanying wing walls have a good look to them that would be right in line with almost any garden railroad. They're sturdy, made from a wood that has proven to be rot resistant (with preservative or paint, can last even longer), and have enough architectural detail to give them a prototypical appearance and a lot of charm. If you wanted to super detail the portals with smaller planks and nut-bolt-washer details, that's also easily done.— K. Strong
Vital Statistics
1:24-scale wood tunnel portals
VES Enterprises
PO Box 11672
Casa Grande, AZ 85130
Price: $19 (portal only) $19 (wing wall set of 2) + $11 s&h
Web: gtrainbuildings.com
Natural cedar tunnel portal; wing walls available separately; supplied assembled, ready to finish. Dimensions: Portal: height 13-1/2"; width 13-1/2" depth 2"; tunnel opening 7-3/4" x 11." Wing walls 11"x11" as reviewed—may be customized.
Pros and Cons
Pros: Sturdy construction, suitably sized for trains of all common garden railroad scales.
Cons: None
---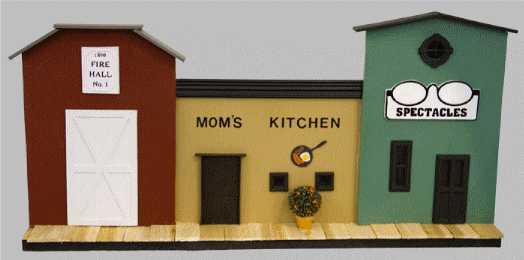 Building flats
GRM, April 2013
Building flats are a good way to fill tight spots on our railways or help hide fences. VES Enterprises has introduced a line of flats that should be robust enough to fulfill that service.
I reviewed on of VES Enterprises full-dimensioned (non-flat) cabins in the June 2012 issue of GR and found it sturdy and well made. These flats are equally well put together: they're just thinner and longer. They're made of wood, and painted with exterior-grade paint. Windows, door features, and most signs are from Precision Products, and are glued in place. Signs that are not Precision Products are well done, with crisp lettering and graphics that are a mix of vinyl letters and stampings. The building themselves are set on a 1/2" base that has a wooden boardwalk laminated on top of it. This sidewalk is tall. This is so they can be used on suspended railways, placed against the wall as the train runs by them.
As supplied, the flats are described as 1:24 scale, and the doors scale out nominally to that size. VES Enterprises will also supply the flats to 1:20.3 and 1:29 scale on request. They will also custom build longer and taller flats (at additional cost), if desired.
The flats themselves are pretty generic. There's not a lot of detail, which is fine for a set of buildings that most likely be in the background. Simple details could be added to really bring these flats to life and make them focal points. Even without that, though, I think these flats will distract the viewers' eyes from fences or any other features you may want to conceal.—K.S.
Vital Statistics
1:24-scale wood building flats
(3 Western-style façades)
VES Enterprises
PO Box 11672
Casa Grande, AZ 85130
Price: $59 + $11 s&h
Web: gtrainbuildings.com
Fully painted wood building façades; glued-in plastic windows and doors. Dimension: Length, approx. 24" (varies with specific building façades chosen); depth: 2.5"; height, no greater than 11" (varies with specific façades chosen).
Pros and Cons
Pros: Sturdy construction; crisp paint and graphics
Cons: None
---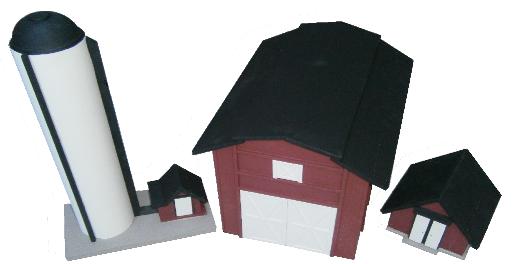 Barnyard trio
GRM, June 2014
VES Enterprises, PO Box 11672, Casa Grande AZ 85130, has introduced a "Barnyard Trio" of structures in 1:24 scale, including a barn, an audio-equipped farm shed, and a new, taller grain silo. The barn is built of exterior-grade plywood with Precision Products trim details. The farm shed has a built-in barnyard sound system/speaker from ITT Products. The 19"-tall silo is constructed of PVC, with wood trim. Structures are supplied fully assembled and painted.
Price (three buildings): $159+s&h
Website: gtrainbuildings.com
---
Branchline Service Facility (façade)
GRM, June 2015
VES ENTERPRISES (www.gtrainbuildings.com) has introduced a new limited edition facade which depicts a branch line servicing facility for steam locomotives ... The unit includes a yard shed, coal bin, sand pile and water tower ... The coal bin can be replaced with a pile of stacked firewood if that is your railroad's fuel of choice ... Scale is 1:24 and overall measurements are approximately 24"W x 10" H x 3" D ... Suitable for either indoor or outdoor use, the facade is primarily constructed of cedar and redwood with molded windows/doors from Precision Products ... Price is $ 69 plus $ 11 shipping (for contiguous 48 states) ... To order, contact vesent@aol.com